Reggie's Web Page
Beagle / Foxhound / Mixed (short coat) : : Male (neutered) : : Young : : Medium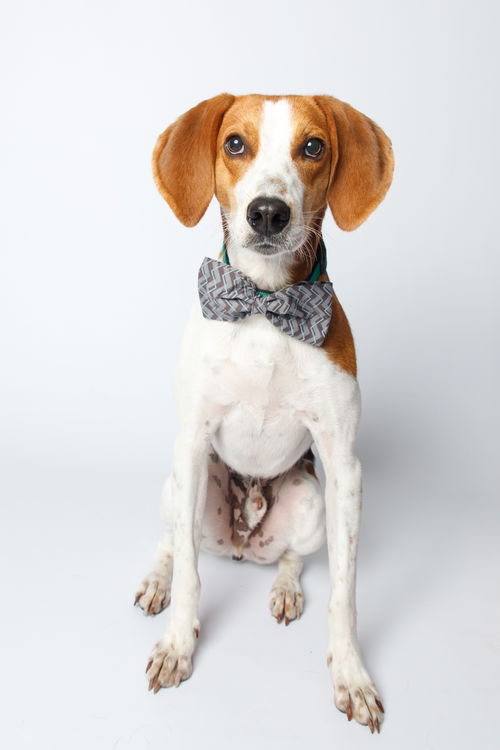 Won't you think about adopting me?
Print an adoption flyer for Reggie!
Contact Reggie's Caretaker/Foster Directly: info@petadoptionservices.org
About Reggie

Status: Available for Adoption (adoption info)
Adoption Fee: 200.00
Species: Dog
Rescue ID: PAS21-032
General Color: Tricolor (Tan/Brown & Black & White)
Ear Type: Long
Current Size: 44 Pounds
Current Age: 2 Years 2 Months (best estimate)

Declawed: No
Housetrained: Yes
Reaction to New People: Friendly
Hi! My name is Reggie. I just turned 2 yrs old on March 1st.
I am hound mix, probably Fox Hound and Beagle, which is why I look like a tall beagle. I have all of that playful silly energy that us hounds have and I love playing with the dog in my home, even though he is smaller than me. I get along with the cats in my home, too. All of us are good friends. However, the rabbits and ducks that I see at the park & in the neighborhood just run off. I think they want me to chase them....
So here are a few of my other favorite things:
I like chew bones! My foster family gets them for me all the time (the ones that are safe to chew, of course).
I like people. The ones that I have met since I was rescued are so cool! Did you know that they come in small sizes? I hear my family call them "kids." Those are especially fun.
I have a pit bull friend that comes to visit me to play with me so I have someone my own size to play with, but when she isn't around, I like when the kids pretend to be a dog (hilarious!) and chase me in the yard. Then I do the zoomies right back.
Oooh! I like toys, too (foster family makes sure not to get me the ones I can chew up, because sometimes I don't know the difference.) I like to fetch, but apparently, you are supposed to bring the toy back to the human. Who knew? When no one is around to play with me, I just throw the toys up in the air to myself.
Then..there are naps. Naps are the best. I like those when I am not playing. When the humans are around I like to cuddle, yes, indeed!

My foster family taught me how to use a crate so that I would not get into trouble when they are not home. The other dog in my home goes in their crate, too, so it just seems like the thing to do, now. I get fed in there and get treats when I go in, and so it's my own personal space.
If you would like to meet me, please complete a Dog Adoption Application
Reggie is current on vaccinations, neutered, and microchipped. Current on heartworm preventative and flea preventative.
Our adoptions include a foster period of 4-6 weeks so that you can be sure that this pet is a good fit without any pressure, and we are available to answer any behavior or training questions during that time (and beyond, if you wish).
** Local adoptions (within Greater New Orleans area and surrounding parishes). We do not ship animals, as a part of our adoption process is for the potential adopter(s) to meet the dog to assess if he/she is a match for the family.
More about Reggie
Good with Dogs, Good with Cats, Good with Kids, Good with Adults, Somewhat vocal, Does Good in the Car, Cratetrained, Plays fetch, Likes to play with toys, Likes to be in your lap, Playful, Affectionate, Even-tempered, Goofy